Our distinguished campground which is situated on a inviting terrace with plenty of sunshine, offers a nice atmosphere, and is well equipped,
with its modern lavatory installation with floor heating, washing machine and tumble dryer,
to change your vacation into a memorable event.
A very active and attractive tourist region, the upper Engadine is waiting for you!
We look forward to your visit!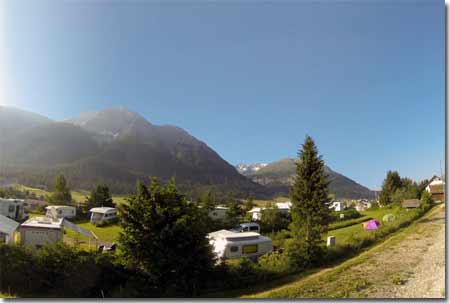 Unique, small and sophisticated campground in the village center!
Pitches available daily or for the season!
PODHouses & livable wine barrels for rent!
Place to fill and dump water for the camper!
10 Amps. electricity plugs (CEE/blue) on the whole campground!
Community BBQ place (even in winter)!
The area offers a great gastronomical variety of ethnic and international food!
Food stores and supermarkets in La Punt and Zuoz (1,7km / 2,3 km)!
Fresh bread can be ordered at the reception for the following morning!
Hot water heating by heat accumulator, therefor always fresh and hygienically impeccable hot
water is at disposition, which doesn't runs out even through high frequency periods!
Private bathroom for rent!
Wireless Internet access (WI-FI) throughout the campsite, free for our guests!
Public playground about 100 m from the campground!
The railway station and the bus stop are right next to the campsite!